Selkie54
on
November 22, 2010
at
12:01 am
One of my secondary objectives for this chapter is to explore the fictitious city of Calumet City, WI a little bit more beyond the orphanage and Todd's apartment. We've seen one of the local dining establishments, and now we get to see some of Calumet City's shopping opportunities. 😀
– – – – –
I made a new addition to the website over the weekend. If you will direct your gaze to the menu bar above the comic, there is now a link to a discussion forum. I've had a couple people request a discussion forum be added to the site, so this will be a fun experiment I think. Drop on in!
Also! Fan Art update! This one is courtesy of Rebecca: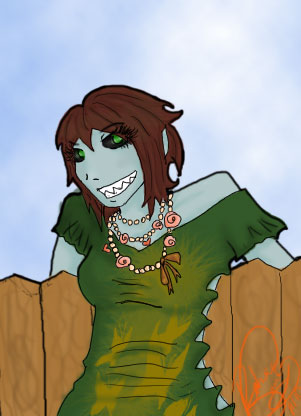 Thank you Rebecca!
Today's edition of the Secret Commentary is empty, because Dave failed to come up with something for it.