Selkie Hiatus #7: ChaosKai3000
on
January 1, 2016
at
12:01 am
The final guest strip of my holiday hiatus comes from ChaosKai3000, who drew us a callback to one of the earliest scenes in the comic. Thank you so much!
And as a finale, a bonus piece of fanart depicting teenage Todd and Andi: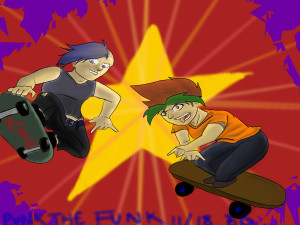 Thank you so much ChaosKai, and everyone else who submitted guest strips for the holiday hiatus. I appreciate your hard work and dedication to create these for me.
Regular Selkie strips return next Monday, January 4th. See you then!
Today's edition of the Secret Commentary is empty, because Dave failed to come up with something for it.