Selkie255
on
November 12, 2012
at
12:01 am
[EDIT] Too all my non-North American readers, I believe I've fixed the problem with the Pins only being available for shipping in America and Canada. I messed up the shipping settings. 🙁 Sorry about that, international ordering should now be possible.
Few things to share today.
Firstly, Selkie reader William Murphy interviewed me for a class project awhile ago, and surprised me with an entire NEWSLETTER written by his entire CLASS. In addition to the article about me and Selkie, William and his classmates worked on articles ranging from child raising to politics to Norse Mythology. Check it out!
Second item of the day is… merch!
If I may direct you to the menu bar at the top of the page, you will see a link titled the Selkie Store. I've ordered a batch of Selkie-shaped lapel pins that I am looking to sell.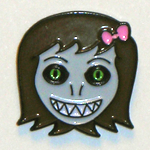 If you are interested in a pin, I am currently accepting payments through Paypal. If you can not or do not wish to use Paypal, email me and we can make other arrangements.
And as always, thanks for reading. Makes Monday something to look forward to. 😀