Selkie208
on
May 28, 2012
at
12:01 am
I am sorry about the half finished comic, everyone. I had a lot of events and family get-togethers over the weekend, and I kind of lost track of myself. As you can see, the comic is half finished, but since I have no class or work today, I will have the finished comic done sometime tonight.
(The blue speech bubbles are just a production step so I can see them over the white background, when completed they will be white as usual).
-EDIT- Comic is finished. I also added some small cosmetic changes to the previous strip, #207. Added some furniture and fixed a typo. XD
Also have a few things to share. Firstly I have MiB-themed fanart from the ever-industrious Jade Griffin: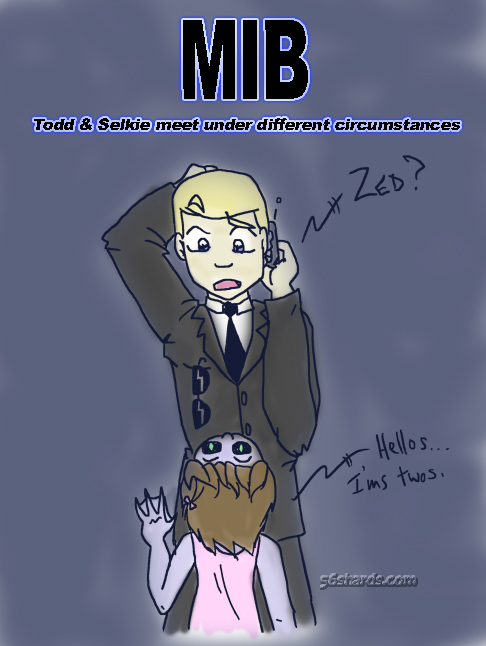 Thanks Jade!
Secondly, since today is Memorial Day, a holiday where my fellow Americans and I take a moment to reflect on the sacrifices of those in the armed forces and all they do for us, I thought a Memorial Day themed bonus sketch was fitting: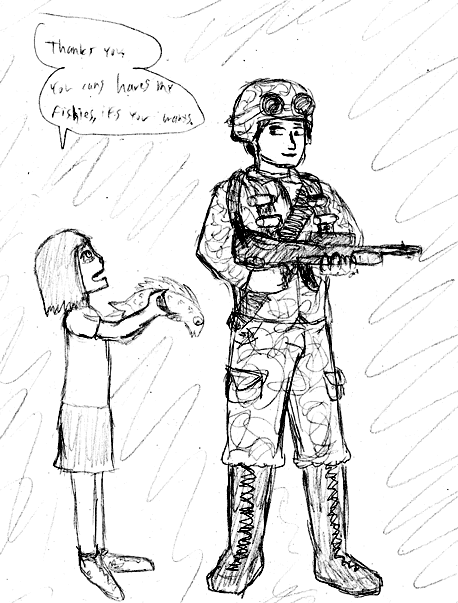 I served a stint in the Air Force myself, and I have a cousin who served in Afghanistan in the Army. I feel very privileged and lucky to have ended my term whole and in one piece. Others aren't so lucky. To anyone who serves or has served, thanks for everything. The fishies are on me.
I always kind of feel like the drama moments of the comic teeter on an edge I can't quite articulate or describe. I feel they need to be very carefully handled... or they careen.