Selkie128
on
August 8, 2011
at
12:01 am
Oh man, I had a busy busy weekend. My cousin got married this weekend! Congrats, Korie and Adam!
I'd also like to name drop something, if I may. My aunt is working on a start-up business designing and selling non-piercing belly jewelry. She has items designed for all sizes of bellies, including pregnancy stages. Her website is Belly Bling Boutique. Give it a look-see!
And lastly, I wanna share a concept sketch for the centaur forms that I almost went with: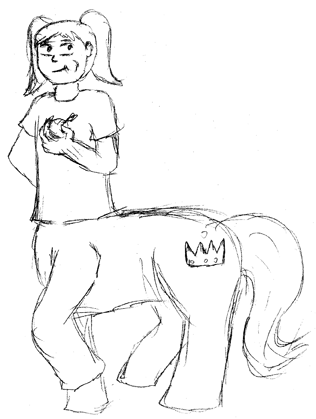 I decided to go for a more real-life horse for the bottom half because I wanted the centaur forms to look graceful. But yep, almost had a My Little Centaur in the dream sequence,. 😀
Before I settled on the concept of ballerina centaurs Amanda Keisha and Heather were, at one point, going to be magical wizard-knights dressed like Sailor Moon villains.